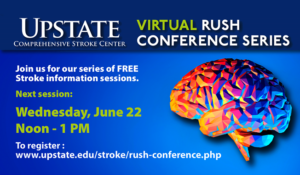 Here is a great opportunity shared by our colleagues at Upstate;
June 22nd Noon to 1pm, join us for a live, free, virtual session to learn about Brain Bleeds: Treatment Options by Dr. Koutsouras (Neurosurgeon PGY4) and Special Considerations, and our second topic, Epilepsy and It's Relation to Stroke by Dr. Izadyar (Neurologist and Epilepsy specialist). We hope to "see" you there!
After the session, all attendees will receive a survey that will direct you to a certificate for Stroke nursing CE's upon completion.